AMI Information
AUTOMATED METERING INFRASTRUCTURE (AMI)
As your only power service provider, Provo Power takes pride in offering the most reliable electrical service in the state, and is working to be the top provider in the nation. Our latest effort was to implement an Automated Metering Infrastructure (AMI Network) with the latest technological advances offering many benefits to all of our customers.
What is an AMI Network?
An AMI Network is the use of connected meters equipped with 2-way communications for the use of calculating electrical consumption. Every home and business in the City of Provo has an electrical meter for this same purpose, however installing a new state of the art AMI meter enables the customer a way to track their energy consumption, and enables the utility to enhance the overall power infrastructure of the city.
Part of being able to offer reliable electrical service includes changing and utilizing state of the art technology and equipment for the benefit of the customers. Provo Power studied and investigated an AMI Network for over 10 years. The network and capabilities offered by an AMI Network can enhance the overall customer service experience and can advance power reliability and efficiency.
What data does Provo Power collect from the AMI Meters?
The meters collect energy use data only, specifically kW and kWh. Meaning, the utility collects demand and usage data, nothing more. The meters that are being installed do not have the capability of identifying what is drawing the electricity in the home, be it the television, hair dryer, refrigerator, air conditioning, etc. The consumption data is transferred a few times a day and collected in a database that is not tied to any personal information.
Is an AMI Network secure?
The AMI Network and system is built so that the communications from the meter are sent directly to the utility for billing and electrical purposes only. The City of Provo and Provo Power abides by the Utah State Code 5-552a to keep records confidential, and in no way can the City of Provo or Provo Power share or use the information of a customer except pursuant to legal affidavits or subpoenas.
The Information Technology (IT) security controls put in place for AMI meters reflects energy industry best practices. They are designed to provide a very high level of assurance that our systems cannot be compromised. Provo Power considers security a top priority. We take all reasonable and necessary steps to ensure the services we provide our customers are not only high quality and easily available, but also extremely secure.
For those of you that are more tech-savvy, and need more information about our security measures: The AMI meters use encryption standards well above the average 128-256 bit key size; where most encryption takes place. Our network leverages a 2048 bit rotating encryption key technology. There is an algorithm constantly rotating communications across a wide range of keys. In the event that sniffing is detected on one frequency, the network moves encryption to a new key and disables the affected channel for a period of time.
All of the meters come from the factory with a certified "birth certificate". The equipment will only talk to other equipment with a valid, matching certificate. The certificate is inserted into the device firmware and is impossible to replicate outside of the originating factory; Itron and Eaton in this case. As the meters are deployed across the City, all of the meters form what is called a network mesh. The purpose of the mesh is to allow efficient communications from the field to the datacenter. The network mesh is based on military technology and is designed to self-heal. In other words, the meters go around communications blocking obstacles like trees, new buildings, etc.
Is an AMI Network safe?
There are many concerns about the use of AMI meters and if the radio frequency (RF) utilized for the communications is safe. The AMI Network utilizes low RF communications and fully complies with the United States Federal Communications Commission's rules for safe use.
An AMI meter uses about 900MHz for only about 45-60 seconds a day. A common comparison of something that uses similar RF is a cordless phone or a baby monitor – both utilizing about 900MHz. There are many other comparisons available, including higher RF items like a Wireless Laptop, Cellphone, Infrared Remote Controls, Microwave Ovens, X-Rays, etc. The common concern of health-related issues attributed to the use of an AMI meter has never been proven, and on the contrary, the FDA says that available scientific evidence shows no increased health risk due to the use or exposure of low RF.
Will AMI meters give the utility control over my electric usage?
No. The AMI Network is about giving customers—not the utility company—control over their power bills. AMI meters do not transmit personal identification information about customers, and they can't identify—or control—the appliances you're using. Plus, state law (Utah State Code 5-552a) rules that the utility, their contractors or agents, and any third party cannot sell a customer's personal information, such as name, address, telephone number, and data about electricity usage.
How can customers use the new AMI Meters for their benefit?
The AMI Meters send data through the secure network multiple times a day allowing for customer access to their own electrical consumption. By offering this resource to our customers, it allows them to "see" their consumption hourly, daily and/or monthly, when power is used the most, or possibly when it is being used when not expected which can help conservation efforts on an individual basis.  Customers can register for an account to monitor and track their consumption by going to www.myusage.provo.org.
My Electrical Usage
Have you ever wondered why your electric bill seems high or even how much you pay per hour per day for electricity? Now you can see this and more by monitoring your electrical usage. Register for an account at myusage.provo.org.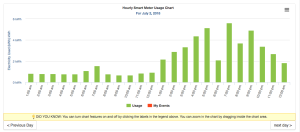 More
Energy Conservation
Learn more about simple, smart switches for your home or office. For more details and information on rebates offered by Provo Power visit SwitchItProvo.com.
See if you can SwitchIt for something better!