Accounts & Customer Service
Provo Power utilizes 3-1-1 Customer Service for all utility billing services (payments, new service, change of name, etc.) Please call or visit the Customer Service Office located at 351 West Center Street (801)852-6000. 
Please be aware that due to a recent conversion to a new billing system Provo City Customer Service is asking that our customers please be patient and accept our apologies for any confusion or inconveniences you might experience as we work through this transition.  With the new system, we will be able to serve you better and more efficiently than ever before!
Please refer to the phone numbers below that corresponds with the type of service call needed.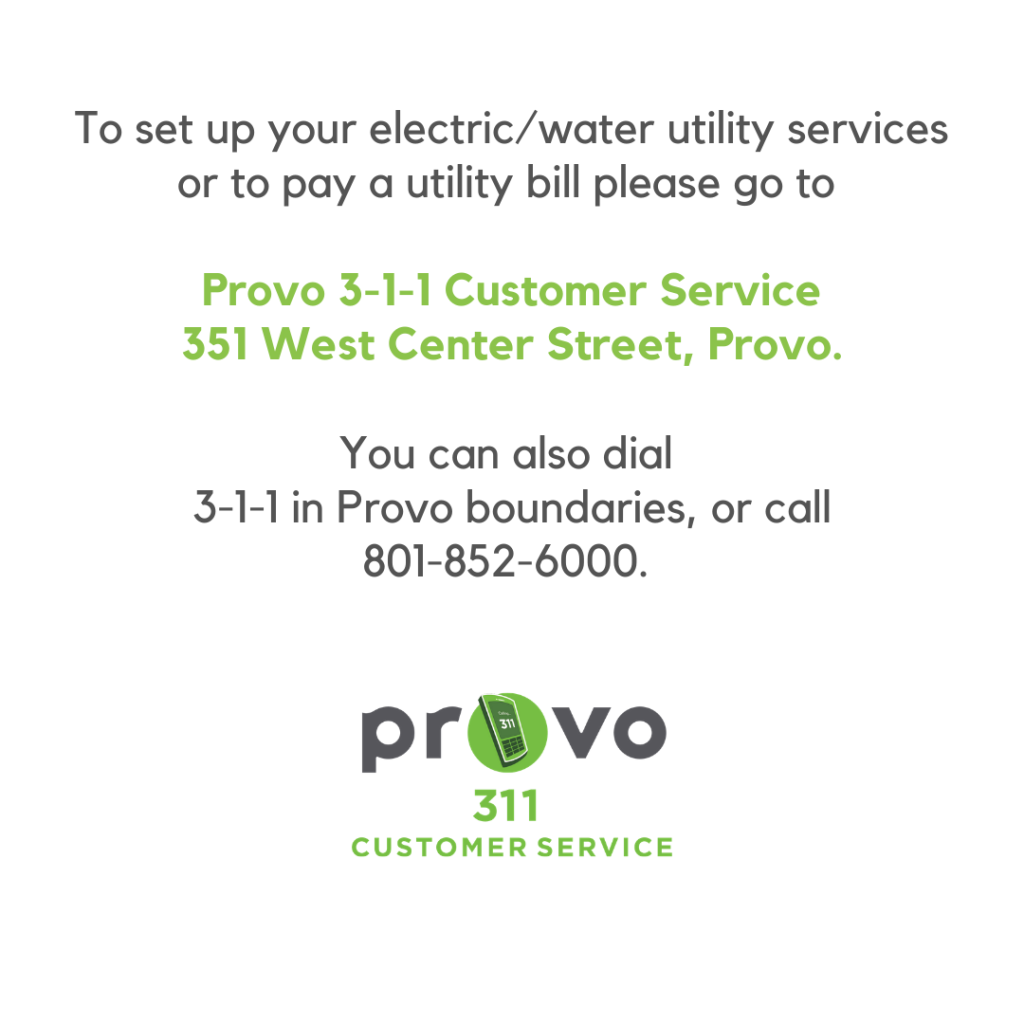 | | |
| --- | --- |
| Type of Service | Number to Call |
| Utility Account Management |   |
| Connect/Disconnect (set up or change utility account name) | 801-852-6000 or 3-1-1 |
| Bill Inquiry/Payment | 801-852-6000 or 3-1-1 |
| Report an issue (trees in power lines, low hanging wires, power outages, etc.) | 801-852-6000 or 3-1-1 |
| Electrical Engineering |   |
| Residential & Commercial Construction Planning | 801-852-6852 |
Electric Rate Schedules
These Rate Schedules define each electrical rate structure including residential, commercial, and industrial customers, in addition to security lighting fees and others. The rate schedules are reviewed on an annual basis with the emphasis on keeping the rates as low as possible but still covering the power costs associated. Each schedule below has the updated rates as it pertains to each customer.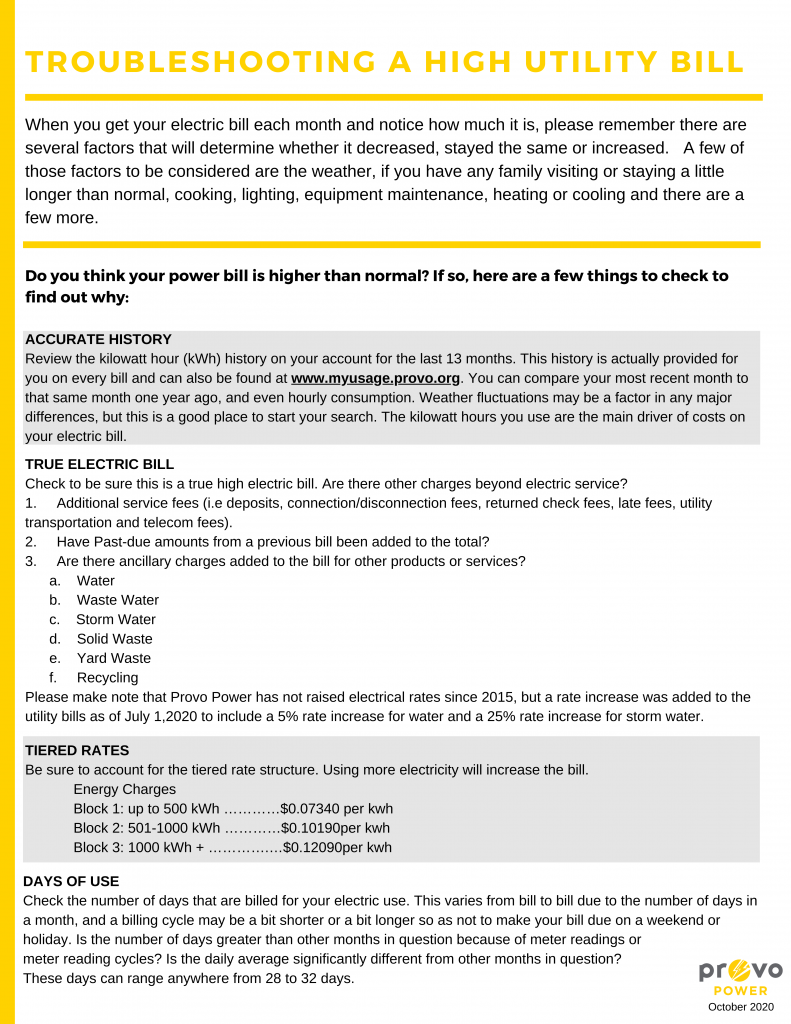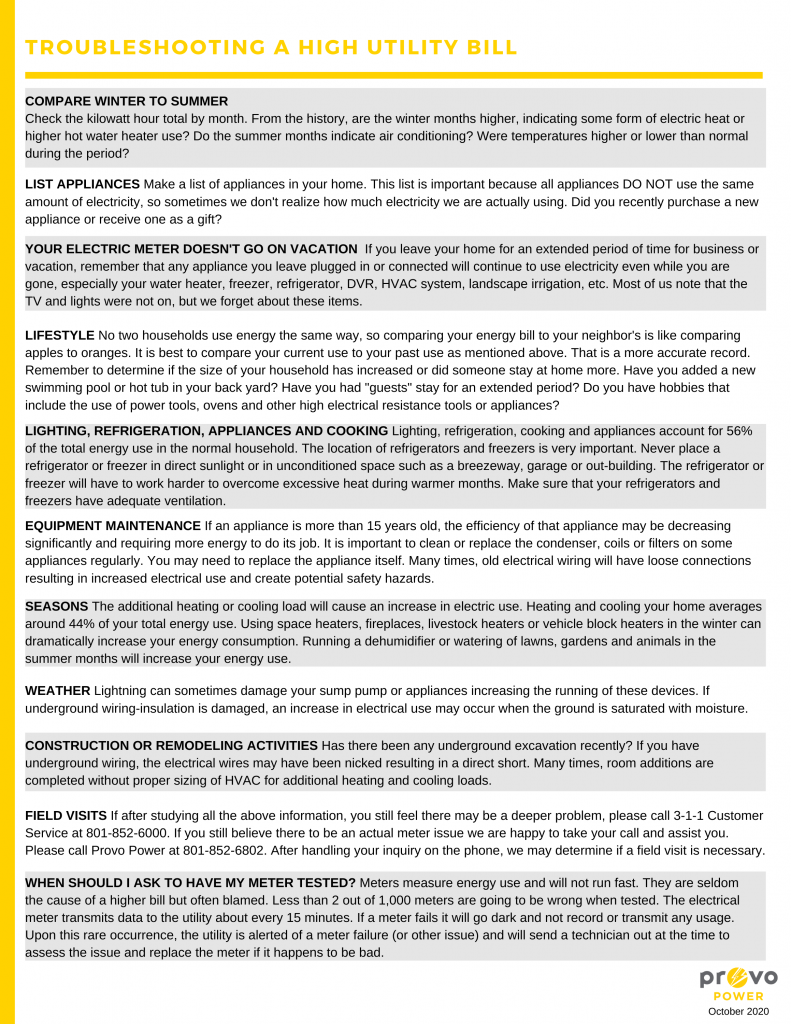 Utility Bills
To set up your utilities, please contact 3-1-1 Customer service by calling 801-852-6000 or by dialing 3-1-1, or visit 351 West Center Street Provo, Utah 84601.
If you send your payment in the mail or have a payment service do so, please make sure to check the remittance address.  All utility payments must be sent to:
351 West Center Street
Provo, Utah 84601
We will not be held responsible for power shut-off due to late payments if they are not sent to the correct address.
Online Utility Bill Payments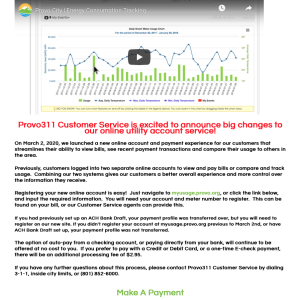 Pay your bill online! You can also register to receive e-statements and set up recurring payments.
Troubleshooting a High Utility Bill
High Bill_