About Us

Did you know that Provo Power, otherwise known as "The Energy Department" provides reliable electricity with superior customer service at a competitive price to the residents and businesses in Provo. The Department operates and maintains over 35,000 meters, 380 miles of distribution lines, 48 miles of high voltage distribution lines and 18 substation transformers. Provo Power is the largest municipally owned electric utility in the state of Utah.
Provo Power is the largest municipal power system in Utah and one of six members of the Utah Municipal Power Agency (UMPA). UMPA schedules all city resources plus other member resources as needed. The other members are Spanish Fork, Salem, Manti, Nephi, & Levan.
Below is a list of some of the plants and resources that are used to generate power for all six members of UMPA. There will be a new Natural Gas plant constructed on the Provo Power Campus to be completed by the end of 2017.
Resources owned by Provo, other members of UMPA or UMPA include:
1) Provo Plant ……………………………..10.0 MW diesel gas engine (decommissioned 6-29-2016)
2) New Provo Plant……………………….13.0 MW natural gas
3) West Valley ……………………………..200 MW natural gas simple cycle
4) Pacificorp………………………………..75 MW (contract varies)
5) Hunter #1 (with UP&L)…………….27.0 MW coal
6) CRSP (federal system)………………65.0-90.0 MW hydro
7) DG&T……………………………………..80 MW (contract varies)
8) Bonanza………………………………….33.0 MW coal
9) Micro-hydro (6 plants)……………..2.5 MW hydro
10) Experimental wind…………………60.0 kW wind
Provo power also offers a renewable energy option for customers to purchase 100kWh blocks of wind power. Check out www.renewchoice.com for more details.
Troubleshooting a High Utility Bill
As of July of 2020, The City of Provo converted the utility billing software. There have been several issues with the roll-out, however, the metering and services that Provo Power offers have not changed. Provo 3-1-1 Customer Service still does the utility billing for Provo City, not Provo Power. Please review the following document where it outlines some items to look out for on your bill. If you have questions about your bill or account services, please dial 3-1-1 (within Provo City limits) or call 801-852-6000.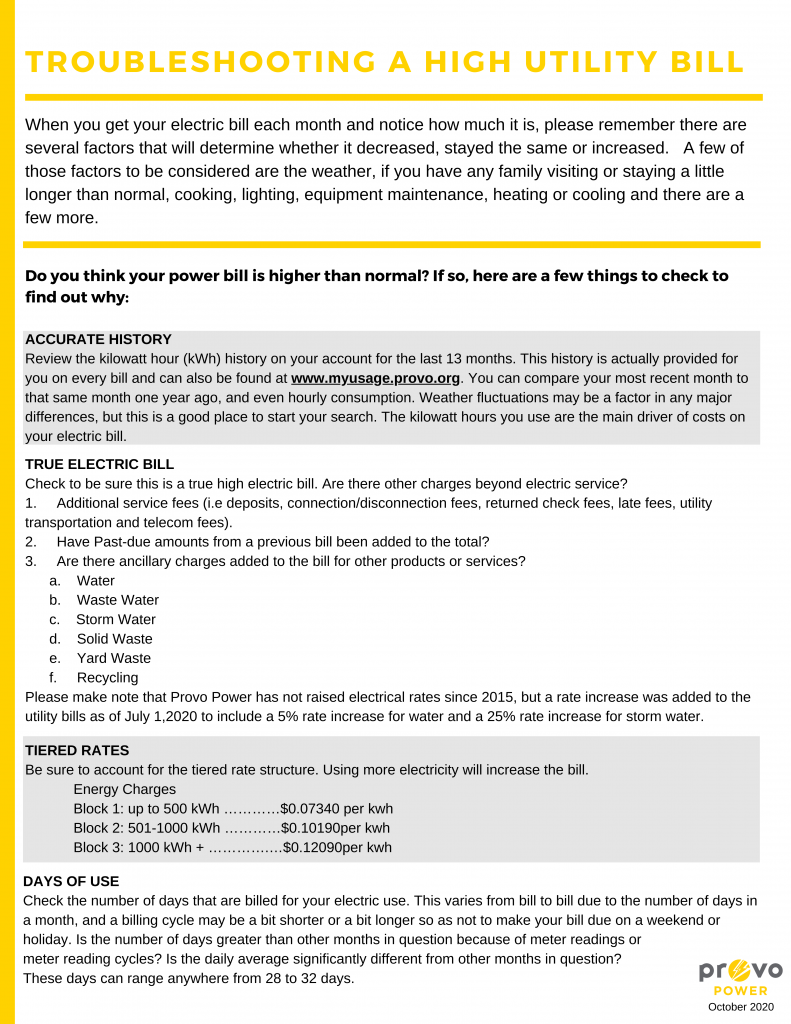 More
Clean Power
Power generation is a big part of Provo's self-sustaining industry— and as of the fall of 2017, we are proud to run the cleanest generation in the State of Utah that technology offers. The Natural Gas power plant will emit the equivalent annual emissions of only eight cars while producing more electricity than the original power plant used to.